MATA VAISHNO DEVI - KURUKSH...
8 Days / 7 Nights
Rs.
22,900
Per Person twin sharing
MATA VAISHNO DEVI - KURUKSHETRA TOUR
8 Days / 7 Nights | India , Delhi
Most Popular
Starting From
Budget Category
Rs
22,900
per person twin sharing
Standard Category
Rs
6,500
per person twin sharing
Inclusions
Delhi
Dep. 5:00pm
Night Journey
Katra
Arr. 8:00am (Rest for 1hr ) (14 km trekking) Mata Vaishno Devi Temple & Back Katra
Night Halt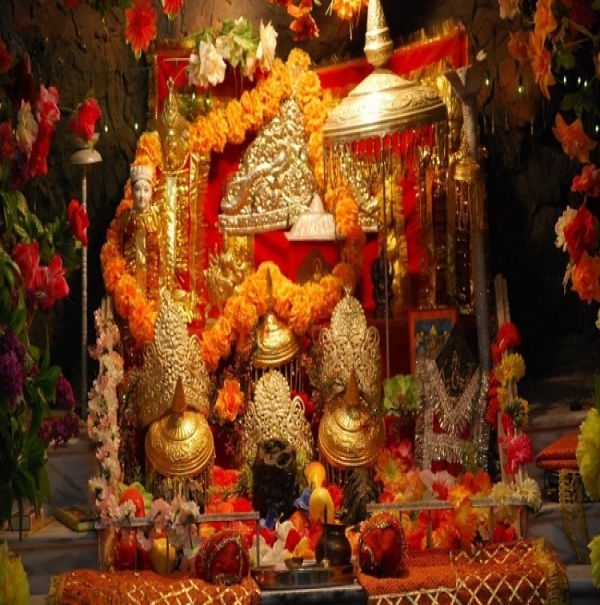 Vaishno Devi Mandir -
SIGHTSEEING
Vaishno Devi, also known as Mata Rani, Trikuta and Vaishnavi, is a manifestation of the Hindu Goddess Mata Adi Shakti also known as Chandi/Durga. The words maa and mata are commonly used in India for mother, and thus are often used in connection with Vaishno Devi. Vaishno Devi Mandir is a Hindu temple dedicated to the Hindu Goddess, located in Katra at the Trikuta Mountains within the Indian state of Jammu and Kashmir.
Katra to Srinagar
Dep. 7:00am
Srinagar - Arr. 7:00pm
Night Halt
Srinagar Sightseeing
Dep. 6:00am
Shalimar Garden, Nishat Bagh, Dal Lake, Sri Shankaracharya Temple
Night Halt
Shalimar Bagh -
SIGHTSEEING
Shalimar Bagh is a Mughal garden in Srinagar, linked through a channel to the northeast of Dal Lake, on its right bank located on the outskirts of Srinagar city in Jammu and Kashmir, India. Its other names are Shalimar Garden, Shalimar Bagh, Farah Baksh and Faiz Baksh, and the other famous shore line garden in the vicinity is Nishat Bagh. The Bagh was built by Mughal Emperor Jahangir for his wife Nur Jahan, in 1619. The Bagh is considered the high point of Mughal horticulture. It is now a public park. This time it is also called as crown of Srinagar.
Nishat Bagh -
SIGHTSEEING
Nishat Bagh is a terraced Mughal garden built on the eastern side of the Dal Lake, close to Srinagar in the state of Jammu and Kashmir, India. It is the second largest Mughal garden in the Kashmir Valley. The largest in size is the Shalimar Bagh, which is also located on the bank of the Dal Lake. 'Nishat Bagh' is Urdu, which means "Garden of Joy," "Garden of Gladness" and "Garden of Delight.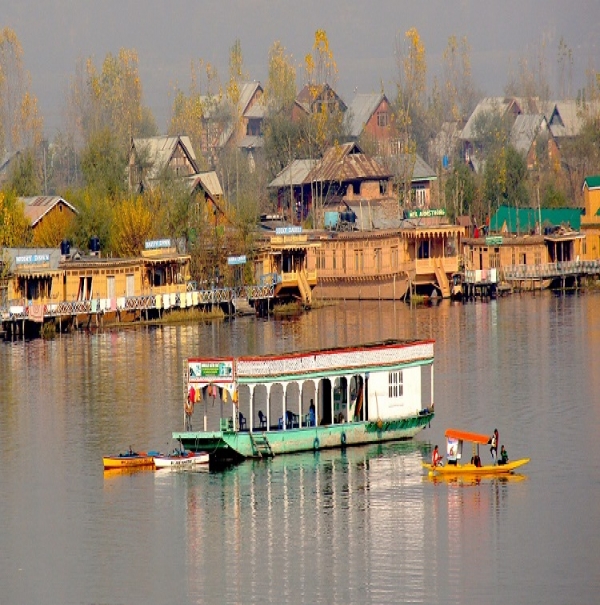 Dal Lake -
SIGHTSEEING
Dal is a lake in Srinagar, the summer capital of Jammu and Kashmir. The urban lake, which is the second largest in the state, is integral to tourism and recreation in Kashmir and is named the Jewel in the crown of Kashmir or Srinagar Jewel.
Shankaracharya Temple -
SIGHTSEEING
The Shankaracharya Temple is also known as the Jyesteshwara temple or Pas-Pahar by Buddhists. Shankracharya Temple was renamed as Takht-e-Suleiman (Throne of Solomon)[citation needed]. It is on top of the Shankaracharya Hill (also called Gopadari Hill)on the Zabarwan Mountain in Srinagar, Kashmir. It is dedicated to Lord Shiva. The temple is at a height of 1,000 feet (300 m) above the plain and overlooks the city of Srinagar.
Srinagar
Srinagar to Gulmarg Sightseeing & Back to Srinagar
Night Halt
Srinagar to Pahalgam
Srinagar - Dep.6:00am
Pahalgam - Arr.9:00am & Sightseeing Dep.3:00pm
Kud / Katra - Arr.10:00pm
Night Halt
Amritsar
Kud / Katra - Dep.6:00am
Amritsar - Arr.11:00am
Golden Temple, Jalianwalan Bagh & Wagha Border
Night Halt
Golden Temple -
SIGHTSEEING
Sri Harmandir Sahib, also Sri Darbar Sahib, informally referred to as the Golden Temple, is the holiest Gurdwara of Sikhism, located in the city of Amritsar, Punjab, India. Amritsar was founded in 1577 by the fourth Sikh guru, Guru Ram Das.
Jallianwala Bagh -
SIGHTSEEING
The Jallianwala Bagh massacre, also known as the Amritsar massacre, took place on 13 April, 1919 when a crowd of non-violent protesters, along with Baishakhi pilgrims, who had gathered in Jallianwala
Wagah Border -
SIGHTSEEING
Wagah is a village situated in Lahore District, Punjab, Pakistan and serves as a goods transit terminal and a railway station between Pakistan and India, and lies on the old Grand Trunk Road between Lahore, Punjab, Pakistan and Amritsar, India
Amritsar to Kurukshetra
Amritsar - Dep.6:00am
Kurukshetra - Arr.1:00am & Sightseeing Dep.5:00pm
New Delhi - Arr.10:00pm
Ac Transportation, Non-Ac room accommodation from day 2 to day 6 & Ac room accommodation on day 7 with vegetarian food only.
Every Monday & Friday.
Pilgrims can book helicopter tickets online from katra to mata vaishno devi temple & back in advance at www.maavaishnodevi.org
Fixed percentage - 25.0%
0 to 4 days - 100.0 %
5 to 7 days - 50.0 %
Established in 1977 with a prime motive to handle domestic and inbound tourist. Rao Travels was specifically started as tour operators and a travel agency. With leisure travel as a core business the company is also involved into corporate travel solutions. Rao Travel owns a self owned fleet of cars, Muv&39s, Luxury coaches A/c and non A/c. We have access to huge infrastructure, as well as more fine tuned service development, while still offering the personalised service that has always been our strength and to ensure that quality of service is maintained at all times.
Reliability. Punctuality. Comfort. Words that count most to you and to us. Where most of the team is headed from people from services background which looks to discipline, comfort, quality and unity at work and society, which has headed the organization with 40 years of unmatched professional reputation /goodwill in the business. By saying so Rao Travels has been affiliated by the under mentioned organizations after recognizing its services all through the years
1. The tours as mentioned are operated by A/c cars, Innova, Tempo Travellers, Mini & Large Tata/ Volvo Coaches depending on number of passengers travelling on the particular journey date.
2. Full Payment with service tax to be paid at the time of booking & receipt to be obtained.
3. Accommodation is available at Delhi & Other places. Double Bed with attached bath non A/C ` 1500/- and A/C ` 2000/- Dormitory sharing basis with bed ` 300/- per head. Sleeping on Durry at Temples/Dharamshala ` 250/- per head. (For advance booking only)
4. All tours depart from Delhi Head Office only. The timings mentioned are approximate and are subject to change. Please read terms & conditions behind tour Ticket / CC Aggrement.
5. Only non A/c room will be provided for tours mentioned with accommodation other than A/c accommodation specified.
6. Our vehicles may be held up en-route on account of traffic jams / Landslides/VVIP Movements these circumstances are beyond our control. In such cases food and accommodation expenses are to be borne by tourist. Some of the Monuments/ temples will be closed by sunset. In such circumstances, some of the places may not be shown. Tourist travelling our vehicles can not claim any refund for these reasons.
7. Entrance tickets to be purchased from the monuments directly. Tourists will carry their luggage from the parking lot to the place of stay at their own risk and responsibility.
8. Children above the age of 5 years will be charged full ticket.
9. L.T.C./ L.F.C. Rao Travel (Regd.) is recognized by Ministry of Tourism Govt. of India and our receipts are approved by all Banks and corporate offices., including LIC of India. L.T.C. tours for State / Central Govt. employees can be arranged in collaboration with I.T.D.C.
10. No compensation will be available if any person does not take food/ accommodation during the tour (where the fare is inclusive of food / sharing accommodation. No refund will be given in case of the A/C failure during the journey. A/c in vehicles will be operated during summer season only.
11. Tourist visiting at 2 Dham or Char Dham Yatra should carry with them sufficient warm clothes, canvas shoes, rain coat, torch and small bedding.
12. No food will be supplied at Kedarnath, Yamunotri, Baltal, Amarnath & Vaishno Devi as the catering unit cannot reach these places. Tourist have to take food in the hotel / restaurants at their own cost. Travel by horse/Doli and other incidentals from Baltal to Amarnath / Gaurikund to Kedarnath / Hanuman Chatti to Yamunotri / Katra to Darbar Shrine and back, Manali to Rohtang pass & back, Varanasi local visit are not included in the tariff, and to be borne by the passengers separately.
13. Accommodation at Kedarnath will be provided in 2 / 3 / 4 / 8 bedded rooms due to scarcity of rooms.
14. Tourist are at liberty to make purchases from anywhere they like. The company neither takes any responsibility for their purchases nor we recommend any particular shop, hotel etc.
15. Tourist will carry their luggage along with them. The management / staff is not responsible for loss of their belongings such as cash, valuable articles, mobiles etc..., during the tour.
16. Conveyance charges from the bus parking to monuments / Hotels & any other place where the bus cannot reach due to traffic regulations will be borne by the passengers themselves.
17. There will be no push back facility in the last row of seats in any coach.
18. Check out time in most of the hotels is 12 noon. Arrangements from 12 noon onwards are made at all places where ever night halts during the journey. If the coach / vehicle reaches before 12 noon, only fresh up arrangements are made before room allotted. Accommodation is provided for stay only and all additional services such as room heaters, snacks, food etc, will be paid by tourist to the hotel directly.
19. In triple sharing accommodation extra bed will be provided in a double room without cot.
20. The management holds the right to switch over the tour from bus to Cabs/Maxi Cabs/Tempo Traveller for Unforseen reasons at any point of time without cancelling the tour for which no refund will be made. In such case, where food charges have been collected in the ticket, refund will be made Rs. 175 per head, per day basis for food only.
21. Please contact for Rail/ Air , Return Journey tickets and Hotel Booking well in advance.
22. 4 / 6 / 9 / 12 / 14 / 16 / 18 / 22 / 27 /35 / 41/ 45 / 53 / seater Volvo Bus, Tata A/c Buses, Tempo Traveller, Winger, Innova and Cars are available for Tours, Marriages and Picnic etc.
23. Water from Ganga River (Himalayas) for Pooja purposes is available any time / short notice on free of cost.
24. SERVICE TAX ON FARE WILL BE CHARGED EXTRA AS APPLICABLE.
25. All disputes are subject to Exclusive Jurisdiction of Delhi Courts only.