Delhi Local trip
Most Popular
Starting From
Standard Category
Rs
750
per person
Delhi
Visit Qutub Minar, Lotus Temple, Akshardham Temple, India Gate, Birla Mandir, Raj Ghat,Indira Museum, Nehru Museum.
Red Fort, Parliament House, Rashtrapati Bhawan, Ferozshah Kotla, Supreme Court will be shown from bus only.
Closed on Monday:-
Humayun Tomb, Iskon Temple, Chattarpur Temple will be covered on Mondays.
Qutub Minar -
SIGHTSEEING
Qutub Minar is a minaret that forms part of the Qutb complex, a UNESCO World Heritage Site in the Mehrauli area of Delhi, India. Made of red sandstone and marble, Qutub Minar is a 73-metre (240 feet) tall tapering tower of five storeys, with a 14.3 metre (47 feet) base diameter, reducing to 2.7 metres (9 feet) at the peak.It contains a spiral staircase of 379 steps. Its design is thought to have been based on the Minaret of Jam, in western Afghanistan. Qutb al-Din Aiak, founder of the Delhi Sultanate, started construction of the Qutub Minar's first storey around 1192. In 1220, Aibak's successor and son-in-law Iltutmish completed a further three storeys. In 1369, a lightning strike destroyed the top storey. Firoz Shah Tughlaq replaced the damaged storey, and added one more. The Minar is surrounded by several historically significant monuments of the Qutb complex, including Quwwat-ul-Islam Mosque, which was built at the same time as the Minar, and the much older Iron Pillar of Delhi.The nearby pillared Cupola known as "Smith's Folly" is a remnant of the tower's 19th century restoration, which included an ill-advised attempt to add a sixth storey.
Lotus Temple -
SIGHTSEEING
The Lotus Temple, located in Delhi, India, is a Bahá'í House of Worship completed in 1986. Notable for its flowerlike shape, it has become a prominent attraction in the city. Like all Bahá'í Houses of Worship, the Lotus Temple is open to all, regardless of religion or any other qualification. The building is composed of 27 free-standing marble-clad "petals" arranged in clusters of three to form nine sides, with nine doors opening onto a central hall with height of slightly over 40 metres and a capacity of 2,500 people.The Lotus Temple has won numerous architectural awards and been featured in hundreds of newspaper and magazine articles. A 2001 CNN report referred to it as the most visited building in the world.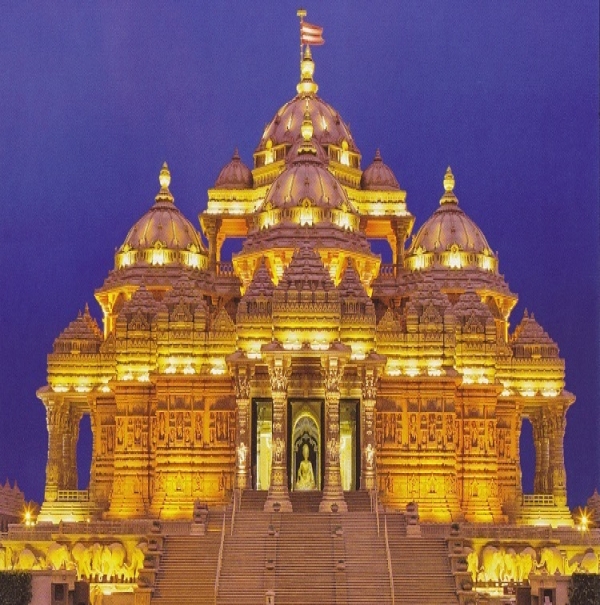 Swaminarayan Akshardham Temple -
SIGHTSEEING
'Akshardham' means the divine abode of God. It is hailed as an eternal place of devotion, purity and peace. Swaminarayan Akshardham at New Delhi is a Mandir – an abode of God, a Hindu house of worship, and a spiritual and cultural campus dedicated to devotion, learning and harmony. Timeless Hindu spiritual messages, vibrant devotional traditions and ancient architecture all are echoed in its art and architecture.The mandir is a humble tribute to Bhagwan Swaminarayan (1781- 1830), the avatars, devas and great sages of Hinduism. The traditionally-styled complex was inaugurated on 6 November 2005 with the blessings of HH Pramukh Swami Maharaj and through the devoted efforts of skilled artisans and volunteers.
Raj Ghat -
SIGHTSEEING
Raj Ghat is a memorial dedicated to Mahatma Gandhi. Originally it was the name of a historic ghat of Old Delhi (Shahjahanabad) on the banks of Yamuna river. Close to it, and east of Daryaganj was Raj Ghat Gate of the walled city, opening at Raj Ghat on Yamuna River. Later the memorial area was also called Raj ghat. It is a black marble platform that marks the spot of Mahatma Gandhi's cremation, Antyesti (Antim Sanskar) on 31 January 1948, a day after his assassination. It is left open to the sky while an eternal flame burns perpetually at one end. It is located on the banks of the river Yamuna in Delhi in India on Ring Road officially known as Mahatma Gandhi Road. A stone footpath flanked by lawns leads to the walled enclosure that houses the memorial. All guests must remove their footwear before entering the Raj Ghat walls.
India Gate -
SIGHTSEEING
The India Gate, (originally called the All India War Memorial), is a war memorial located astride the Rajpath, on the eastern edge of the 'ceremonial axis' of New Delhi, India, formerly called Kingsway. India Gate is a memorial to 82,000 soldiers of the Indian Army who died in the period 1914–21 in the First World War, in France, Flanders, Mesopotamia, Persia, East Africa, Gallipoli and elsewhere in the Near and the Far East, and the Third Anglo-Afghan War. 13,300 servicemen's names, including some soldiers and officers from the United Kingdom, are inscribed on the gate.The India Gate, even though a war memorial, evokes the architectural style of the triumphal arch like the Arch of Constantine, outside the Colosseum in Rome, and is often compared to the Arc de Triomphe in Paris, and the Gateway of India in Mumbai. It was designed by Sir Edwin Lutyens. In 1971, following the Bangladesh Liberation war, a small simple structure, consisting of a black marble plinth, with a reversed rifle, capped by a war helmet, bounded by four eternal flames, was built beneath the soaring Memorial Archway. This structure, called Amar Jawan Jyoti, or the Flame of the Immortal Soldier, since 1971 has served as India's Tomb of the Unknown Soldier.